Physiotherapy
Any distinct area of the body can be manually examined to understand its functioning.

I am able to show you that the area in pain is just "not behaving properly", and a plan of action should be put in place to avoid or to limit anatomical damages. (the ones you usually see in an X-ray or MRI)

Believe me.. It won't be just exercises

I am also recognized by the major insurances.

Orthopaedic
Sports injuries
Chronic pain
Women Health and pregnancy
Car/Bike related accident
Spine and joints pain
Exercises plan and more..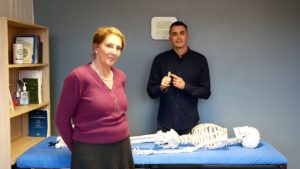 Bodyoptimus
Holistic therapy
Amazing results on chronic pain when I choose to approach it by assessing the whole body.

Very little is known about chronic pain but I give you an input...
The body accumulate a series of restrictions which are connected with your previous traumas.

I can find the major traumas that have characterized your past and that have left an important imprint that today sustain your pain

We all display this same behaviour in common, it is part of our physiology and I have been thought to check the body thoroughly through my extensive journey of studies.

Once dealt with, these mechanical restrictions no longer represent a problem.
Mario is an excellent physiotherapist! I had 3 sessions with him whilst being 3 months pregnant and he worked to realign my pelvis from a preexisting problem that I had for many years. He also fixed a problem with my ear that has been causing blockage and tinnitus, manipulated my ankle and jaw that were causing problems and now I feel like a new person Mario takes the time to really listen as well as explain everything fully. What I also like is that he does not rush but takes his time to make sure that everything is as it should be I would highly recommend him and have friends and family who have had session with him after my recommendation.
Fantastic service from Mario. He was able to fit me in at short notice for a pain in my right leg. Gave very thorough assessment to determine the cause and treatment worked really well – felt the difference straight away. Would definitely return.
I had a sprain to the ankle and after 5 months I still couldn't move the ankle properly, also if the pain was gone.Plus several muscle contractures. Mario has figured out this at the first appointment. I would highly recommend him,I feel really lucky having a physiotherapist who I can trust in a such of big city. Thanks Mario!